Practicing aural skills is one of the most important music theory exercises for any musician.
From beginner students to more advanced musicians, boosting listening skills helps everyone when it comes to playing piano. But some music students want to skip the ear training exercises and just play piano without any extra theory lessons.
This is where ear training apps come into play.
We want to help you:
Understand the benefits of using ear training apps
Learn about the best ear training apps
Discover how to make ear training fun
If you want to join a community of like-minded musicians, full of guidance and resources to help you run a full-filling and stress-free music studio, sign up to TopMusic Pro here.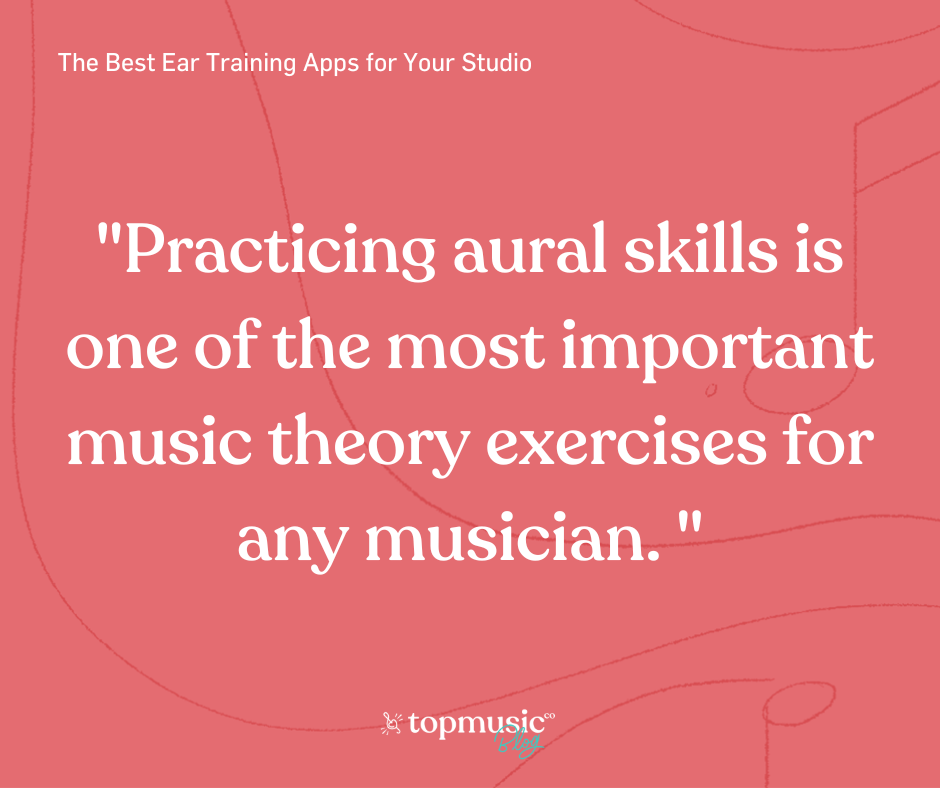 Table Of Contents: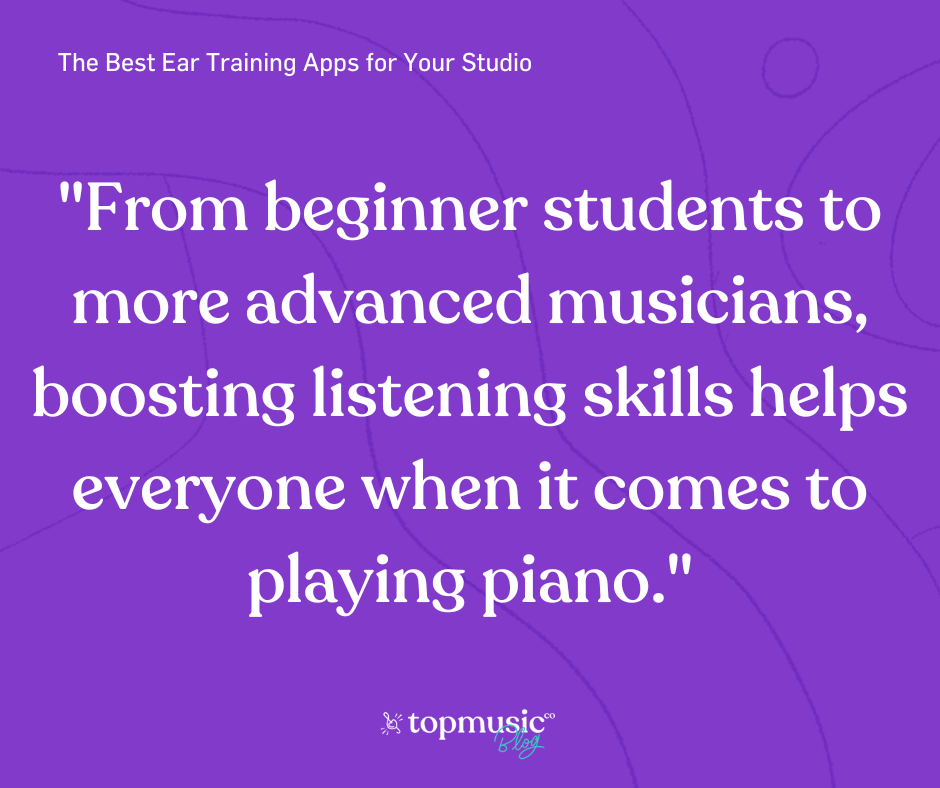 Why You Should Embrace Technology
For many teachers, traditional theory lessons are great fun. They're a perfect way to boost a student's skill level through various ear training exercises, rhythm exercises, and sight reading practices. However, for many music students who just want to get on and play music, these music theory exercises lack the element of fun they're looking for in their music lessons.
As our modern students are bombarded with commitments at school and the many extra-curricular activities they are doing, we need to make sure music is high on their priority list. How? By getting creative, and engaging them with technology.
Embracing technology in your studio is one of the best creative teaching approaches to enhance your students' learning experience. If you aren't already using an iPad or another tablet in your teaching, you should seriously consider doing so.
If you're after some more innovative and creative ways to use technology in your studio then check out Tim's most popular blog post, Best iPad Apps for Piano Teachers.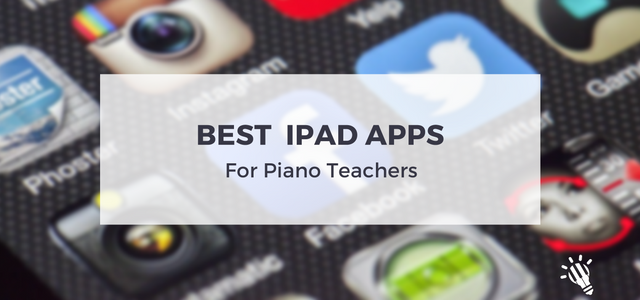 The Benefits of Using Ear Training Apps
As teachers we have an array of ear training exercises and rhythm training exercises in our music teacher toolbox, so you may be wondering why you even need an app.
Feels like a video game. I'm sure you have at least one student who loves to talk to you about their favourite video games. If you can show them your latest ear training games on your iPad, then suddenly you're talking their language, and they'll be intrigued to try it out.
Provides instant feedback. Sure, you can tell your students if they're right or wrong, but there's just something satisfying having an app tell you you've done well. Or if you've not done well, sometimes it's easier to be told that from a tablet than a human.
All you need is a tablet and an internet connection. This means you can set your students homework to work on their ear training skills. Or if you have students waiting while siblings have their lessons, you can set them some ear training exercises while they wait.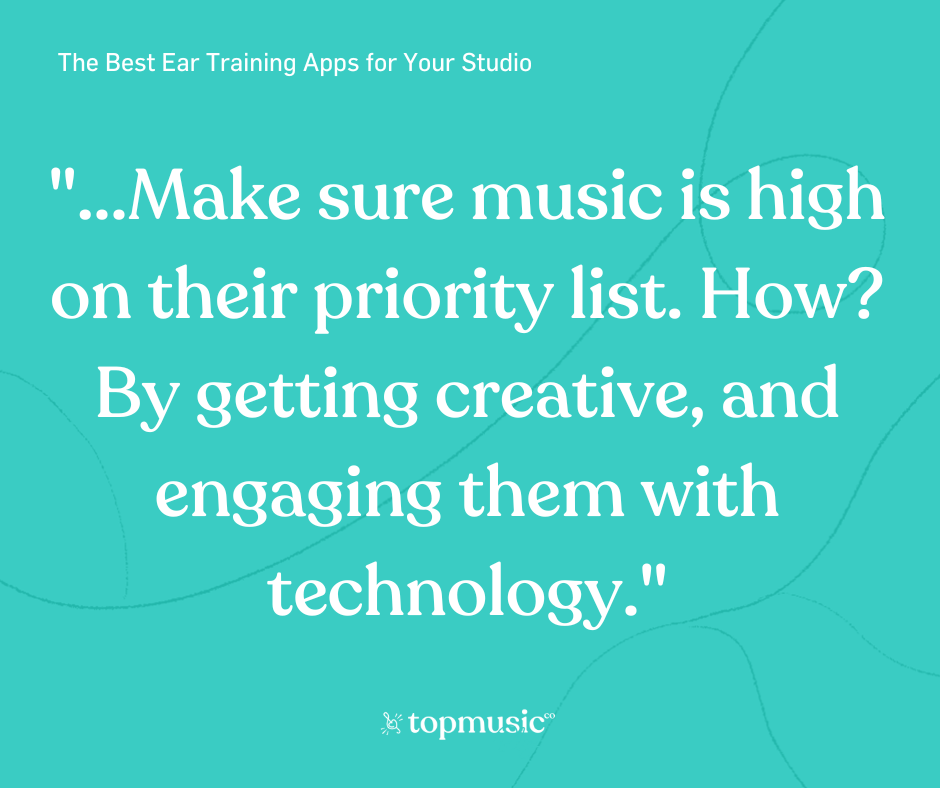 What You Can Use An Ear Training App For
If you've not come across an ear training app before, you may be wondering if there are limitations to the music theory exercises they include. You can actually find an ear training app for:
Identifying chord quality
Identifying chord progressions
Recognizing relative pitch
Interval training
Rhythm exercises
Testing sight reading skills (and sight singing skills)
Learning about melodies and pitch (for younger beginners)
Whatever ear training skills you're wanting your students to practice, you'll be able to find a great app to help you out.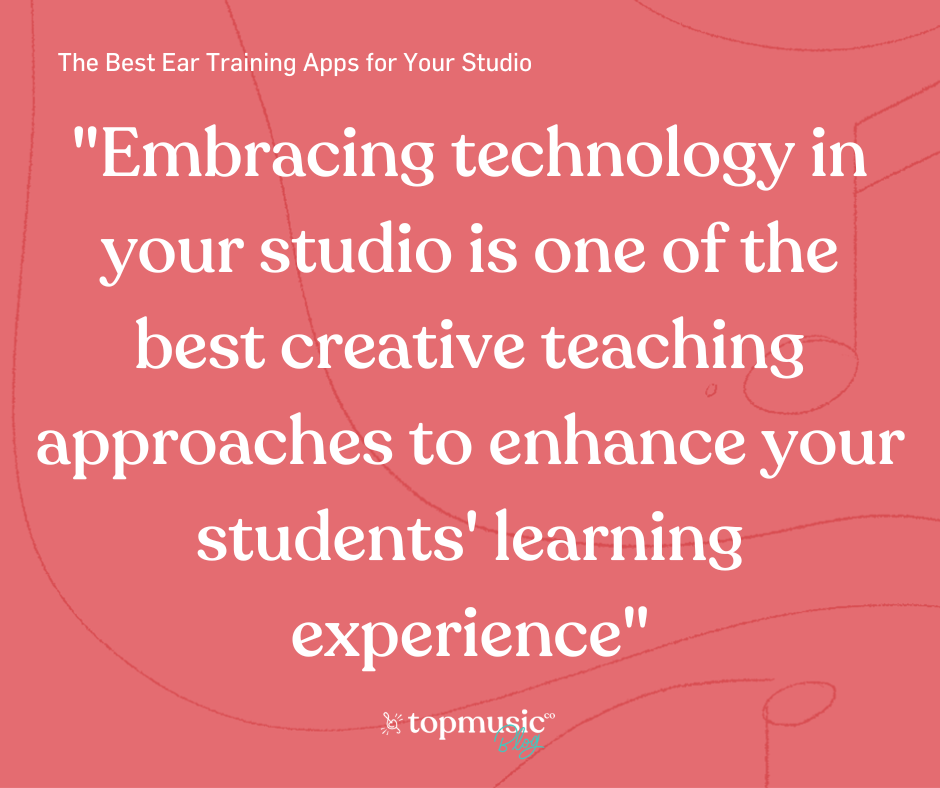 The Best Ear Training Apps
There are so many ear training apps out there (just a quick search in the Google Play Store or App Store and you'll find loads!) so we've picked out what we think are the best ear training apps to share with you:
AuralBook for AMEB
Ear Master
Tenuto
Easy Music
goodEar
Meludia
Make Aural Training Fun!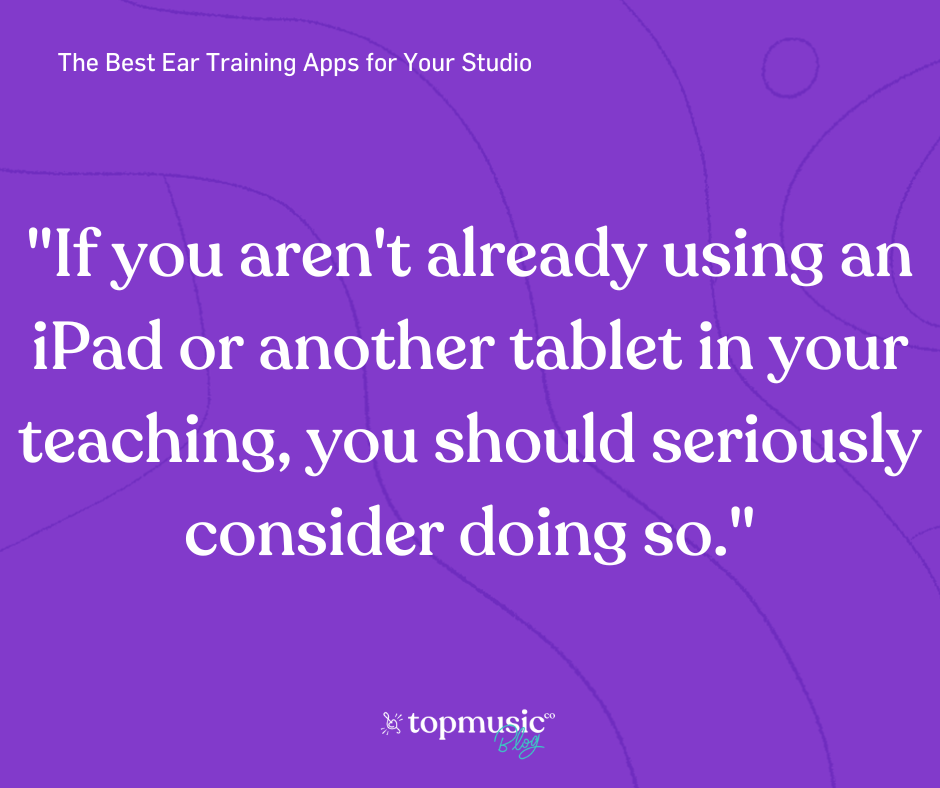 AuralBook for AMEB
This ear training app listens as students sing notes and provides them with critique according to their pitch and rhythm, all displayed on the original sheet music to help the student understand the detailed explanation. This is basically an artificial intelligence music teacher.
The overall sound quality is a little clunky, but this is a huge improvement on anything else. It's already set up with all the requirements for ABRSM and AMEB exam systems, grade-by-grade. This is a great app, and an absolute must-have for exam teachers around the world.
Read more about how you can use AuralBook in your studio by clicking here.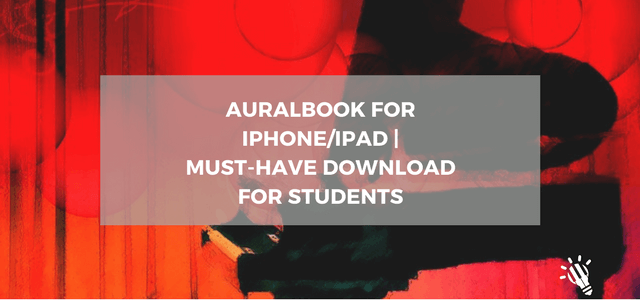 Ear Master
For us, this is one of the absolute best ear training apps out there.
Ear Master tests students on things like
Rhythm
Interval identification
Pitch and chord progressions
Sight reading
Syncopation
Hemiola
Triads
Scale degrees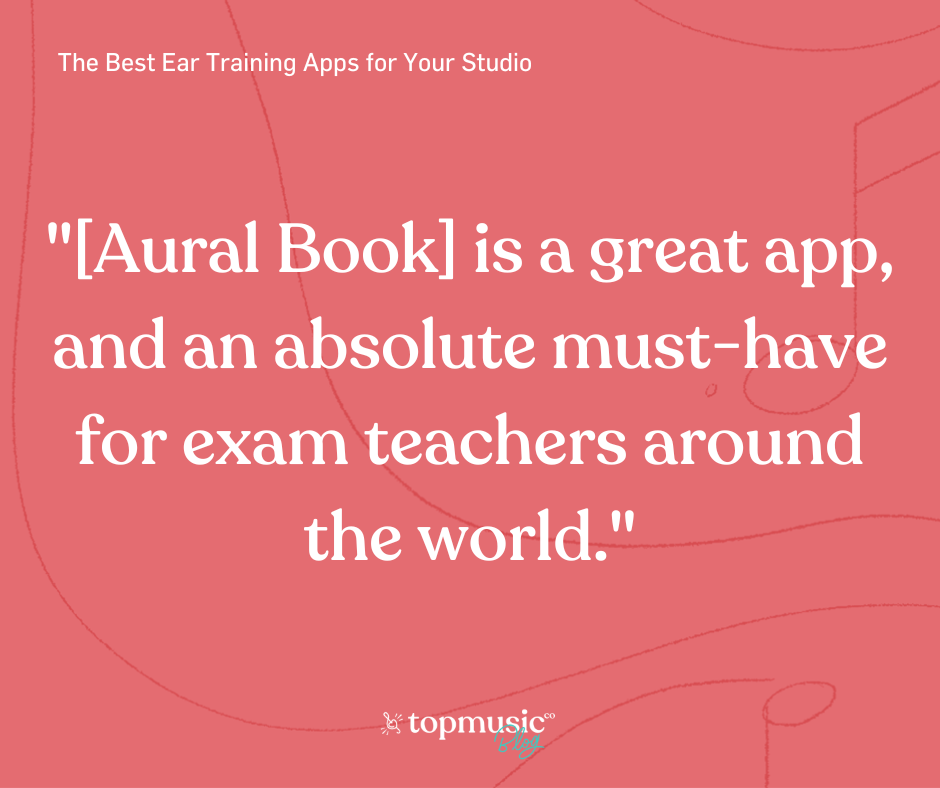 It even allows you to keep ongoing statistics, so you can monitor your students' progress.
You can use Ear Master ear training software on your PC, Mac, iPad, and it is also available as an Android app. Ear Master is a fantastic educational app to use with your students. Certainly worth a look!
Tenuto
This app comes from the team at musictheory.net. Tenuto is the best ear training app for both chord identification and interval identification on a keyboard.
A brilliant feature of this app is that it actually will show you how everything looks on a keyboard. It's easy to use, has good functionality and would be another handy inclusion to your studio technology.
This app also includes musical calculators, great for helping your students get their heads around identifying intervals, how to identify chords, and other musical concepts. For more information, please click here.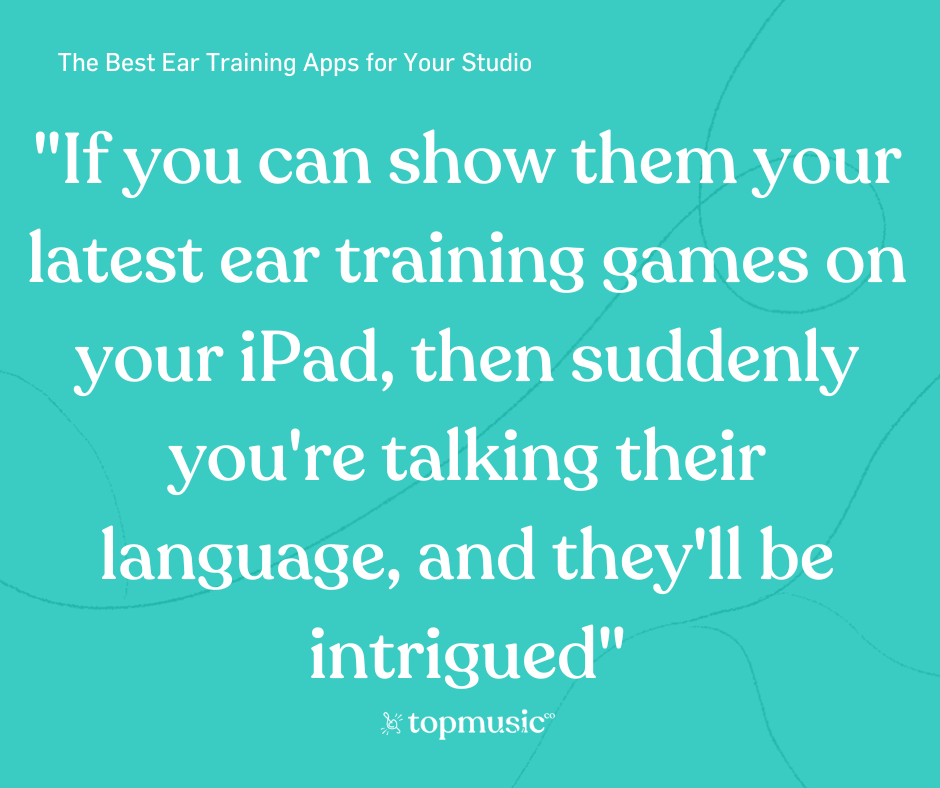 Easy Music
If you're looking for the best ear training app for younger students, Easy Music is the ear training app for you.
With its friendly graphics and ear training games, Easy Music is the perfect ear trainer for engaging your young students with music theory. Whether its recognising notes, chords pitch or rhythm, Easy Music will help your beginner students become confident listeners as they identify melodies with a nature-inspired game environment.
goodEar
goodEar actually has four different ear training apps you can use, so your students will never get bored.
Their apps are split into four musical categories:
Scales
Melodies
Chords
Intervals.
These ear training apps are designed for musicians of any ability, ranging from beginners to advanced musicians. This could be a good option for those students who don't come to class prepared, and who need to work on their listening skills!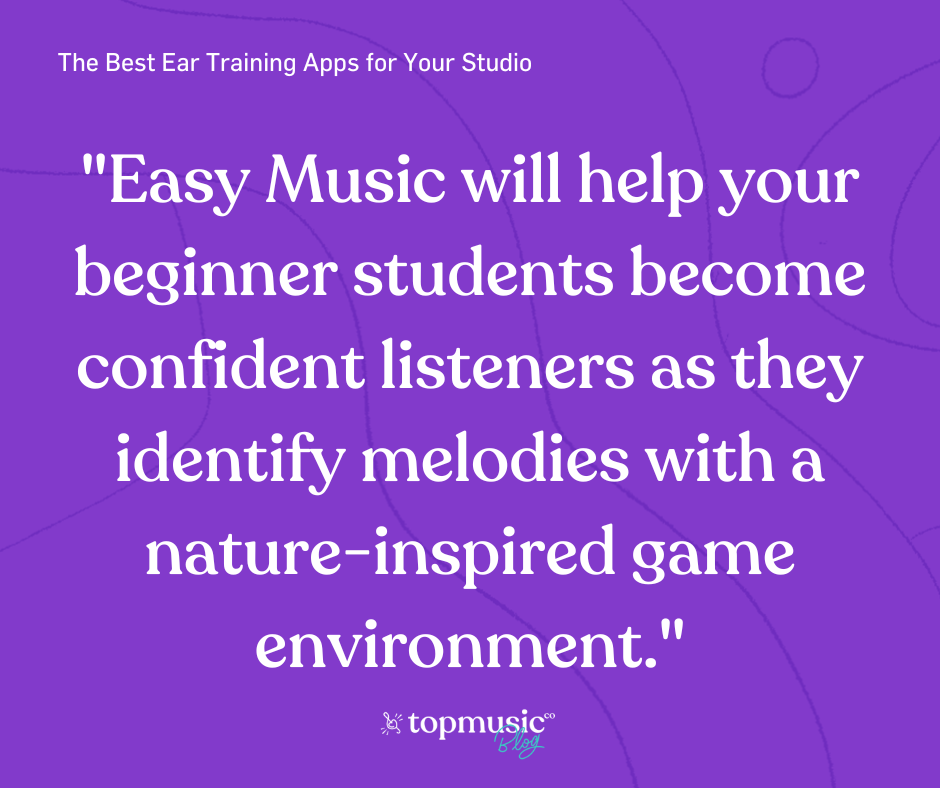 Meludia
Meludia is a fantastic ear training app for helping musicians master a whole range of aural skills. Their website claims to have over 600 ear training exercise examples, so there will surely be something to suit all of your students.
What makes Meludia a great ear training app, is that your students can use it to work independently on their musical skills at home or at school. You still have the capability to monitor their progress, ensuring they are working on their ear training skills.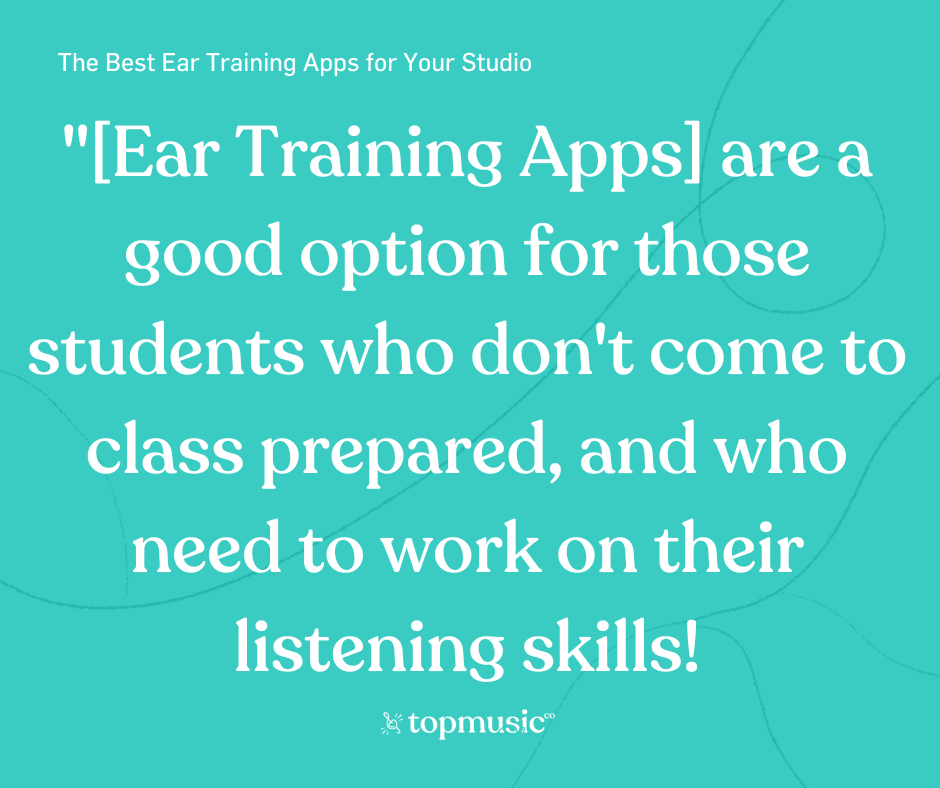 Make Aural Training Fun!
Using ear training apps are one way to make aural training more engaging, but there are plenty more ways.
If you are you struggling to get your students to engage with aural training activities and are looking for creative ways to make aural training fun, then we can help you!
'Amplify Your Aural' is an Academy Course created by the founder of 'Musical-U', Christopher Sutton, and shares with you some of the best ways to teach aural skills.
Amplify Your Aural covers:
Why aural training is important
Learn about the different types of aural training and how ear training can help your students in other areas of their music studies.
Solfa
Discover how solfa can help students to play by ear and the difference between fixed and movable do solfa systems.
The realities of aural development in lessons.
What aural training currently looks like in many studios, why it doesn't work and how it can be improved.
Aural practice at home?
Ideally you want students to practice these skills at home. How can we do that, and can technology help?
How we can we make aural more engaging
A whole lot of activities and ideas that you can use to make aural work more engaging in your studio.
How fun activities can connect with exam tests
If your students do exams, you may wonder if these activities will prepare them. We'll show you how they connect.
This Academy Course (and many more) is available as part of the TopMusicPro Membership